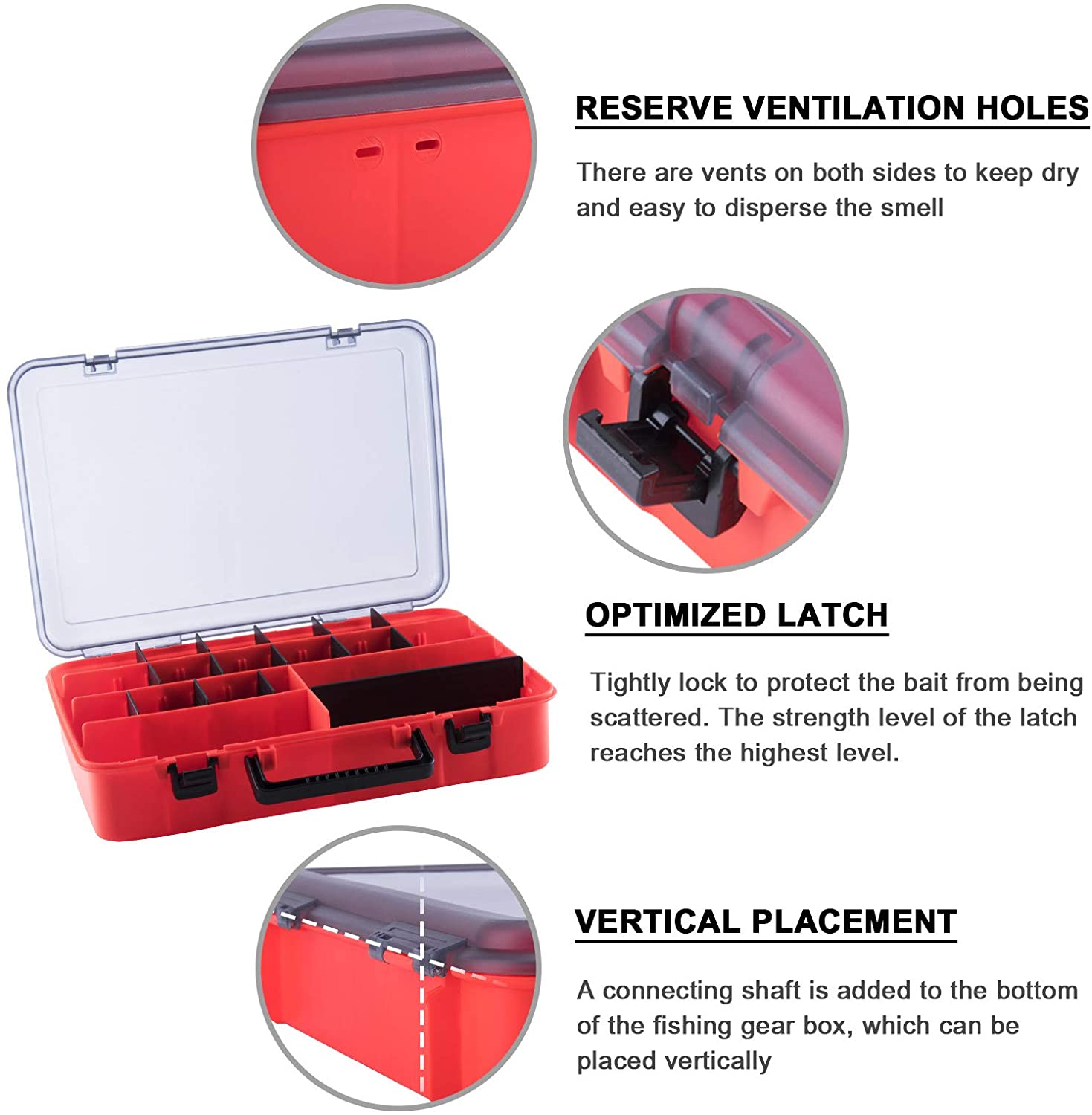 Goture Plastic Storage Organizer Box
Features: 12+1 Dividers: The inside of the box is composed of 12 standard size dividers plus a...
First order 10% Discount Code: "got10"
Free Shipping on orders above $59
14 days no-hassle returns
Features:
12+1 Dividers: The inside of the box is composed of 12 standard size dividers plus a large size divider. Adjustable 12 removable dividers can be freely combined in 27 fixed card slots. Additionally, the maximum size dividers divide the maximum space of the box into two, which is most suitable for storing items of the size of fishing reels.
See-Through Top: The Goture tackle storage features the see-through top, which is great for you to quickly scan fishing gears. At W 10 3/4'' * H3 3/8'' * L 15 1/8'', you will be surprised how much it can hold. this will hold much of what you need. The satchel-design is nice for carrying around and the non-slip handle is strong and durable.
Multi-function Storage Box: It can not only store fishing gear and supplies but also be used to store all kinds of things you want. It can be used as a tool box, medicine box, etc. It is reliable and compact, great for a satellite box or for someone who is just looking to have a day-box while keeping more of their unused gear at home.
Impact Resistance: Adopts polypropylene resin material and its shell thickness is 0.1 inches thicker than the same type of product which can withstand 300 pounds of pressure and impact. Designed for the characteristics of the fishing gear box and is not easily damaged by sharp metal such as fish hooks and scratches.
Service & Commitment: We have been engaged in the field of fishing gear for many years, and are committed to the product needs of fishing enthusiasts. Please believe our professional level, we will also promise to provide perfect after-sales service and return policy.
Description
Goture Fishing tackle box
Maintain your terminal tackle, soft plastics, and rigging tools through the seasons with the Goture tackle box. odorless, tasteless, coats all exposed metal surfaces with a protective, rust- and corrosion-resistant layer that lasts for up to many years, even in extreme marine environments. divided base with 1 oversized compartment and 27 tackle compartments, keep everything organized. Also features a secure open latch. design for convenient storage.
Specification:
Name: Large capacity fishing tackle box
Material: Polypropylene resin
Function: Small components storage box for fishing
Color: Orange, Green, Yellow
Reserve ventilation holes;

There are vents on both sides to keep dry and easy to disperse the smell

Non-slip handle

Strong and durable, easy to carry

Optimized latch;

Tightly lock to protect the bait from being scattered. The strength level of the latch reaches the highest level, even if it is dropped from a high altitude, it is not easy to damage

Horizontal and vertical placement;

A connecting shaft is added to the bottom of the fishing gear box, which can be placed vertically and horizontally